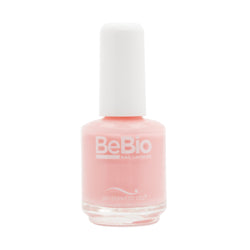 Soft baby pink, solid finish

Change your manicure and pedicures easily and often with our high quality traditional nail lacquers. Also available in our traditional 3STEP Colour Gel Polish
Individual Size: 15 mL (0.50 fl.oz)
Purpose:

Provides up to 7 or more days of wear

Applies onto natural nail or over artificial extensions
Benefits:

No discolouration

Air-dry with no LED/UV lamps needed

Easy wipe-off removal with acetone/nail polish remover
BEBIO NAIL LACQUER INSTRUCTIONS

BeBio Nail Lacquer is a high-quality traditional nail lacquer that provides up to 7 days or more of wear.

1. PREP NAILS
Lightly buff nails and cleanse with 70%+ alcohol to remove oils and dusts.
Wait for nails to dry completely.
No primers, bonders or heavy sanding required.

2. BEBIO BASE COAT
Apply one thin coat of BeBio Base Coat.
Allow air-dry time.

3. BEBIO NAIL LACQUER COLOUR FIRST COAT
Shake well before use. 
Apply one thin coat.
Allow air-dry time.

4. BEBIO NAIL LACQUER COLOUR SECOND COAT
Repeat Step 3 until desired opacity is reached. Allow air-dry time.

5. BEBIO TOP COAT
Apply one thin coat of desired BeBio Top Coat. Allow air-dry time.
PRO TIPS

Shake bottles well before use
Paint thin layers 
Allow air-dry time between each coat 
View
#BSGFate
 on Instagram to see this shade as worn by our
#BSGSquad
!
See more shades of 
#BSGPink
GET FEATURED
Tag your
#bioseaweedgel
photos for your chance to be featured on our page:
1. Tag us @bioseaweedgel and #bioseaweedgel
2. Tag the colour name #BSGColourName
3. Tag the colour shade #BSGColourShade
Vibrant Pink
This pink is loud and vibrant but that how I want all my pinks to look lol I love pink EVERYTHING! This shade lasted so long in my nails!
Pretty in Pink
I love this pink it goes very well with all my white outfits and this nail polish is very pigmented. I love that it only took 2 coats not 5 like other nail polishes haha
Love this pink
The perfect summer pink to brighten up your fingers or toes!