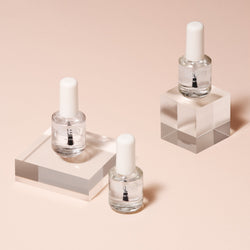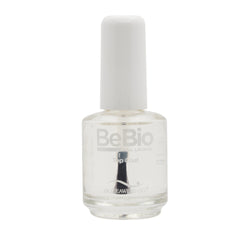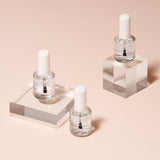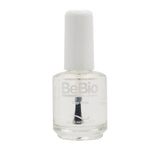 Enjoy a luminous finish on your regular polish manicure and pedicure with our shiny top coat.

Use with BeBio Nail Lacquer to match all Bio Seaweed Gel 3STEP Colour Gel Polishes.
Individual Size: 15 mL (0.50 fl.oz)
Purpose:

Provides up to 7 or more days of wear

Applies onto natural nail or over artificial extensions
Benefits:

No discolouration

Air-dry with no LED/UV lamps needed

Easy wipe-off removal with acetone/nail polish remover
Didn't dry
I applied the basecoat and 2 coats of polish. They weren't thick coats. I waited at least an hour and probably close to 2. Wanted to go to bed. Woke up in the morning and the finish was not smooth, so it still wasn't completely dry. Never had this problem with any other topcoat products.
Hi Marilyn,
Thank you for taking the time to review our BeBio Top Coat.
We apologize for any experience less than perfect.
The BeBio Top Coat may not have dried properly overnight and any contact while surface is still wet will result in an uneven and not smooth finish.
For best results with BeBio Nail Lacquer, we suggest the following steps:
- Continue to paint thin coats and wait 3-5 minutes in between each coat
- Wait at least 1 hour after completion before touching your nails or engaging in any other activities
If the above steps do not resolve the drying issue, please email our customer service team at onlinesales@bioseaweedgel.com
Thank you,
BSG
Get's Sticky and Melted Days/Weeks Later
This top coat applies normally at first but doesn't seem to set well even after many hours. Most of our clients are having issues with this product melting or getting sticky after a few weeks of wear (ex. their socks are getting stuck to the polish several weeks later). Not performing like a professional top coat should and lacks shine.
Hi Whitney,
Thank you for taking the time to review our BeBio Top Coat.
We see our team has now followed up with you in regards to this issue experienced.
We look forward to assisting you promptly.
Best,
BSG
Dissapointed.
Top coat remains sticky after applying on other layers and it takes a long time to dry, in addition it also doesn't have much shine.
Hi Anna,
Thank you for taking the time to review our BeBio Topcoat.
We apologize that your experience has been anything less than perfect.
Nail lacquer Topcoat will take longer to dry if the layers below are applied too thick. This will also cause the topcoat layer to not have a perfect shine.
To resolve this, please try these tips:
1. Paint super thin coats and wait 3-5 minutes before next coat
2. Pro tip: wait at least 1 hour after completion of painting before you touch your nails
In regard to the air-dry time, it is normal to take about 1 hour to fully dry.
This timing can increase depending on the thickness of your layers applied. Also, if the atmosphere you are in is colder, it also takes a bit longer to dry.
We hope you are able to give this topcoat another try for successful results.
If after trying these troubleshooting tips you are still experiencing issues, please contact us at onlinesales@bioseaweedgel.com and we can help provide more in-depth personal help!
Best Regards,
BSG
love this!!
again, something that i have been reaching for everytime i paint!! an incredible top coat and would really make the polish last long!! you need it! <3