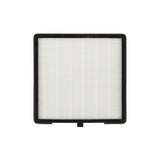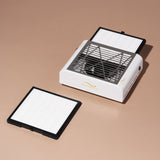 A replacement filter for the Dust Collector.

Create a healthier nail experience for you and your clients. 
Collects the dust debris from all nail services

Recommended replacement of filter is every 6 months of daily use. 
Clean and empty filters by tapping into a trash can.
Do not wash with water.

1 piece
Individual size: 
18 cm x 18 cm 

Love this dust collector!!
The filters last, I gently tap the dust out after each use to keep the filters clean and lasting longer, they arrive in their own little baggy so nothing gets trapped in and they're 100% fresh! Purchase these every 3-6 months depending on use! I wish it was cordless but it works really well! Sounds isn't too loud either!
Excellent
No problems with suction!! Works very well!! No issues!!