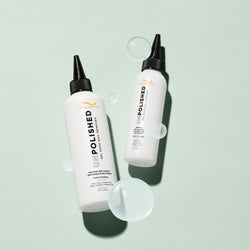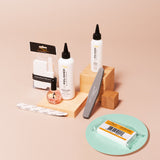 Our UNPOLISHED Removal Kit is ideal for personal and professional use. 

With this kit, you will receive all the essential tools to remove your gel polish, nail lacquer, dip powder and sculpting gel with a gentle non-drip gel mask formula. Our UNPOLISHED Gel Mask Nail Remover creates an effective nail product removal experience without any additional acetone or nail foils. 

The

UNPOLISHED Removal Kit 

includes the following full-sized products (Up to $102.00

 

value): 
Purpose:

Non-drip gel mask that effectively removes nail lacquer, gel product and dip powder
Not a burst remover, removes nail product safer layer by layer 
Must be re-applied in multiple applications to gently soften nail product for removal 
Benefits:

Less odour and less products required
No additional acetone or nail foils required
Does not dry out nails or cuticles
Big-5 free, cruelty-free, vegan-friendly & paraben-free
Patent Pending
Wonderful product! Highly recommend. Easy to use. I did not have any nail damage.
Don't waste your money
Worst product ever! It took me hours to start seeing some gel polish off my nails. After 3 hours, I gave up and soaked my nails in acetone. Don't waste your time and money! As others said, it just creates a kind of glue mask that actually doesn't work. So disappointed!
Hi Micheli,
Thank you for taking the time to review UNPOLISHED.
We apologize that your experience was anything less than perfect.
With the proper application and removal times, we are confident that your removal can be more time efficient!
The UNPOLISHED estimated removal time should not take longer than a full 6-12 minutes to remove gel polish.
The issue experienced indicates the mask has been applied too thin (we do recommend a quarter coin thickness) or left too long and thus the acetone in the UNPOLISHED is dried up and not able to remove as it should.
If you click this link here, you can follow our exact instructions for best results: https://cdn.shopify.com/s/files/1/0689/3321/files/01_BSG_INSTRUCTIONSHEET_UNPOLISHED-UPDATED-DIGITAL.pdf?v=1610637534
Your satisfaction with our products and service is our top priority.
Please email us at onlinesales@bioseaweedgel.com with your current steps of application and we love to get back to you with further assistance to ensure a successful removal!
Best,
BSG
This works!!
I'm
A new gel DIY'er and have been having a hard time removing my gel mani. This made it a breeze and no damage to my nails!
I also love the smell!
Good day Jilliane,
Thank you for your feedback on UNPOLISHED Removal Kit.
We are thrilled to see no damage on your nails and you love the smell!
I was really looking forward to my package
I was really looking forward to my package ...but once received there was missing items and it seemed to have been open and tampered with.
I'm quite upset.
Hello Samara, we are sorry to hear that you received your package in any condition less than perfect. At this time, our team will be reaching out to you directly to fix this issue and get you your order in the right condition. Thank you, BSG
Best Artificial Nail remover available
I have tried several similar products and they don't work or the bottle gets all gummy after 2 uses and is ruined. Unpolished is different it works quick and is easy to use and doesn't damage your nails. I love this product and will definitely keep using it to remove my builder gel, dip powder, gels and gel tips. No mess