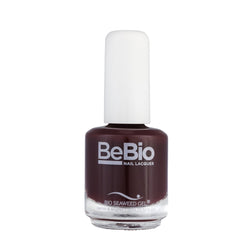 A deep wine red in a solid finish.
Experience the joy of effortless beauty at home with BeBio Nail Lacquer. Enjoy swift drying times and a lasting, chip-resistant finish that effortlessly express your unique style:
Pigmented nail lacquer formula

Up to 7 days of chip resistant wear

Quick drying

Easy wipe-off removal with acetone or nail polish remover

Available in a gel polish formula; see Matching Set
Size: 15mL (0.50 fl.oz)
COLOUR ACCURACY:
We do our best to show you our products in their true colors. But keep in mind, your device's settings and resolutions can make them look a tad different from real life 😉🎨
Colours available in gel polish formula; see Matching Sets

Provides up to 7 or more days of wear

Long lasting and highly pigmented formula

No discolouration of natural nails

No LED/UV lamp required; air-dry product

Easy wipe-off removal with acetone or nail polish remover
BEBIO MANICURE:
Indulge in the timeless elegance of a classic polish manicure using our BeBio Nail Lacquers. Elevate your style effortlessly and frequently with our richly pigmented formula, allowing you to embrace a spectrum of stunning looks.
1. Prep your nails: lightly buff nails and cleanse with 70%+ alcohol to remove oils and dusts. Wait for nails to dry completely. No primers, bonders or heavy sanding required.
2. Apply one thin coat of base nail polish. BeBio is optimized for use with our BeBio Base Coat. Allow 1-2 minutes to air dry.

3. Apply a thin coat of BeBio Nail Lacquer colour. For best nail lacquer application always shake well before use and paint in thin layers. Allow 1-2 minutes to air dry.

4. Repeat step 3 until coverage and desired opacity is reached.
5.  Apply one thin coat of top nail polish. BeBio is optimized for use with our BeBio Top Coat. Allow 2-3 minutes to air dry,
View
#BSGAnotherMerlot
 on Instagram to see this shade as worn by our
#BSGSquad
!
See more shades of 
#BSGRed
GET FEATURED
Tag your
#bioseaweedgel
photos for your chance to be featured on our page:
1. Tag us @bioseaweedgel and #bioseaweedgel
2. Tag the colour name #BSGColourName
3. Tag the colour shade #BSGColourShade
Didn't hold...
I own several colours of the same type but this one didn't hold at all. It didn't last for 24h even with base and top coat. Unfortunately...
Hi Mylene,
Thank you for taking the time to review #1022 Another Merlot?
We apologize for the difficulties with this BeBio Nail Lacquer shade.
These are fabulous high-quality nail polishes, however, they do not guarantee a chip-free wear.
We would love to take the time to let you know some tips and tricks to help the BeBio Nail Lacquers last up to a potential of 7 days.
1. Wash hands with soap and water prior to application
2. Buff natural nails (especially if you have oily or uneven nail plates)
3. Cleanse nails with 70%+ alcohol to remove any remaining oils, dust or debris
4. Shake bottles well prior to painting
5. Paint super thin coats and wait 3-5 minutes before next coat
6. Pro tip: wait at least 1 hour after completion of painting before you touch your nails
7. Pro tip: use cuticle oil daily 2-3 times to keep nail plates moisturized and flexible (this helps with the polish not chipping as often)
In regards to the air-dry time, it is normal to take about 1 hour to fully dry. This timing can increase depending on the thickness of your layers applied. Also, if your atmosphere you are in is colder, it also takes a bit longer to try.
In the case you are looking for a 2+ week guaranteed chip-free wear, we would suggest to look into our Gel Polishes (we have two lines: UNITY All-In-One Gel Polish or 3STEP Gel Polish, if you want more information on this please let us know and we would be happy to assist with any inquiries).
Please know that your satisfaction with BSG is our number one priority.
If after trying these troubleshooting tips you are still experiencing issues, please contact us at onlinesales@bioseaweedgel.com and we can help provide more in-depth personal help!
Best Regards,
BSG