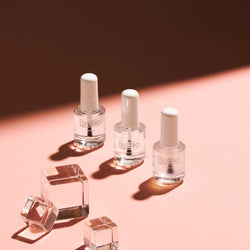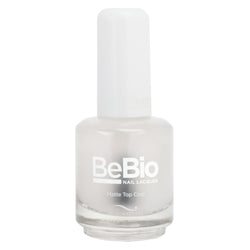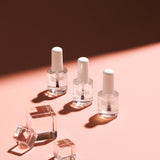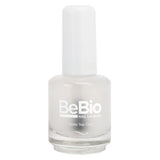 Experience the joy of effortless beauty at home with BeBio Nail Lacquer and achieve a trendy matte finish on your BeBio Nail Lacquer manicure and pedicure.

Clear nail lacquer formula

Provides a matte finish on your nail lacquer manicure

Easy wipe-off removal with acetone or nail polish remover

Size: 15mL (0.50 fl.oz)
Colours available in gel polish formula; see Matching Sets

Provides up to 7 or more days of wear

Long lasting and highly pigmented formula

No discolouration of natural nails

No LED/UV lamp required; air-dry product

Easy wipe-off removal with acetone or nail polish remover
Decent
was hoping to use this on top of gel. I think it's more suited for actual polish though.
Hi Nicole,
Thank you for taking the time to review our BeBio Matte Top coat.
We would like to confirm this product is a nail lacquer and meant to be applied over nail lacquer only. We hope to have a Matte Top Gel available in the near future!
Best Regards,
BSG
Great for regular polish!
I bought this thinking BSG had finally brought back the Gel matte top coat... but it was for regular polish! As a work around, i put a regular polish clear top coat over my UNITY colour, then finished with this matte, and it works just as well!! Pleased with it :) Though would love the gel one to come back...
LOVE LOVE LOVE every product
obsessed with bio seaweed gel. I have over 20 polishes regular, 3 step and unity all in one, the curing light and many extra accessories by their brand and I truly LOVE all of them! The shellac nail polish is absolutely amazing, glides on perfect leaving no streaks or lines and is very effortless. The regular polish you have to be slightly more careful with during application to get an even application but the formulation works great aswell! I love how this brand is more healthy and better for your nails!! ALSO the ladies working in store were very kind and helpful when needing help or when having a question. I am a new nail tech and am extremely impressed with this company, will continue to buy more! ig @scaramuzzamua @heidiscaraa