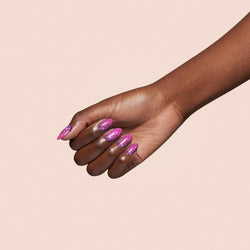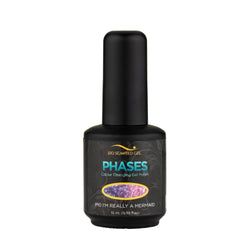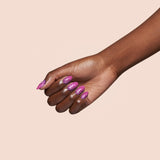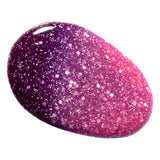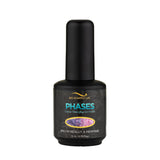 Cold – Royal purple hexagon sparkle, jelly finish
Hot - Magenta pink hexagon sparkle, jelly finish
PHASES is a colour changing three-step gel polish formula requiring use with BSG Base and Top. Colours change in hot and cold temperature for two looks in one.
Individual Size: 15 mL (0.50 fl.oz)
Purpose:

Provides 2+ weeks of high shine chip-free colour

Must be used with BSG Base and Top

Strengthens and promotes natural nail growth

Applies onto natural nail or over artificial extensions
Benefits:

No shrinking or wrinkling, self-leveling formula

No air-dry time, cures in LED/UV lamp

Enriched with vitamins and minerals

Easy soak-off removal

60+ applications per bottle
3STEP GEL POLISH INSTRUCTIONS

3STEP is a traditional three-step soak-off gel polish formula that must always be used with BSG Base and Top. 

1. PREP NAILS
Lightly buff nails and cleanse with 70%+ alcohol to remove oils and dusts.
Wait for nails to dry completely.
No primers, bonders or heavy sanding required.

2. BASE GEL POLISH 
Apply one thin coat of desired Base Gel Polish.
Cure for 30 seconds in LED lamp or 1 minute in UV lamp.
Note: Base Gel will always remain tacky even after curing.

3. 3STEP FIRST COAT
Shake well before use. 
Apply one thin coat and do not cap the free edge. 
Cure for 1 minute in LED lamp or 2 minutes in UV lamp. 
Note: 3STEP will always remain tacky even after curing.

4. 3STEP SECOND COAT
Repeat Step 3 until desired opacity is reached. 

5. TOP GEL POLISH 
Apply one thin coat of desired Top Gel Polish. 
Cure for 1 minute in LED lamp or 2 minutes in UV lamp. 
PRO TIPS

Shake bottles well before use
Paint thin layers 
Double the cure times when using a non-BSG lamp 
View #BSGImReallyAMermaid on Instagram to see this shade as worn by our #BSGSquad!

See more shades of #BSGPink and #BSGPurple

GET FEATURED
Tag your #bioseaweedgel photos for your chance to be featured on our page:
1. Tag us @bioseaweedgel and #bioseaweedgel
2. Tag the colour name #BSGColourName
3. Tag the colour shade #BSGColourShade
Sooo in love
Absolutely LOVE this polish. It quickly became a go-to except never want to change it. I included a picture of warm fingers and cold for comparison. Love each end of the shade spectrum and all of them in between!
Love the colours!!!!!
This was one of the colours I kept going back to last summer! And probably again this summer. Definitely be ordering another bottle soon. :)
Fun fun fun!
This is such a fun colour and I love it for the summer! I really love the jelly finish and the name really suits the colour
Clumpy
Recently ordered this polish and am surprised at the consistancy. It has clumps when applying to the nail. It has a nice colour changing effect, but I am wasting the polish by wiping the clumps off before application.
Hi L.P
Thank you for taking the time to leave us with a review.
We apologize the consistency was not as expected.
Please see here for our troubleshooting steps on how to remedy the consistency:
Carefully place the tightly closed bottle into a bowl of hot - warm water for 15 minutes
After this, carefully remove from water and shake/roll the bottle very well upside down for 30-60 seconds
Apply in a thin and even coat
We hope these troubleshooting steps help!
If you require any further assistance, please do not hesitate to contact us at anytime at onlinesales@bioseaweedgel.com.
Thank you for choosing BSG!
Best Regards,
BSG