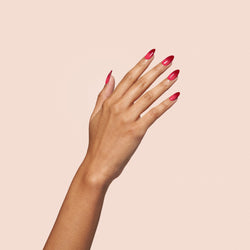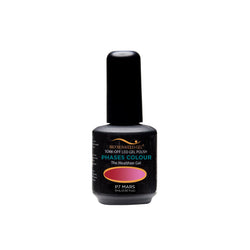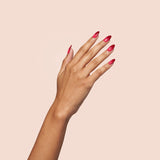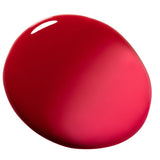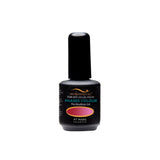 Cold - Cranberry red, solid finish
Hot - Baby pink, solid finish
PHASES is a colour changing three-step gel polish formula requiring use with BSG Base and Top. Colours change in hot and cold temperature for two looks in one. 
Individual Size: 15 mL (0.50 fl.oz)
Purpose:

Provides 2+ weeks of high shine chip-free colour

Must be used with BSG Base and Top

Strengthens and promotes natural nail growth

Applies onto natural nail or over artificial extensions
Benefits:

No shrinking or wrinkling, self-leveling formula

No air-dry time, cures in LED/UV lamp

Enriched with vitamins and minerals

Easy soak-off removal

60+ applications per bottle
3STEP GEL POLISH INSTRUCTIONS

3STEP is a traditional three-step soak-off gel polish formula that must always be used with BSG Base and Top. 

1. PREP NAILS
Lightly buff nails and cleanse with 70%+ alcohol to remove oils and dusts.
Wait for nails to dry completely.
No primers, bonders or heavy sanding required.

2. BASE GEL POLISH 
Apply one thin coat of desired Base Gel Polish.
Cure for 30 seconds in LED lamp or 1 minute in UV lamp.
Note: Base Gel will always remain tacky even after curing.

3. 3STEP FIRST COAT
Shake well before use. 
Apply one thin coat and do not cap the free edge. 
Cure for 1 minute in LED lamp or 2 minutes in UV lamp. 
Note: 3STEP will always remain tacky even after curing.

4. 3STEP SECOND COAT
Repeat Step 3 until desired opacity is reached. 

5. TOP GEL POLISH 
Apply one thin coat of desired Top Gel Polish. 
Cure for 1 minute in LED lamp or 2 minutes in UV lamp. 
PRO TIPS

Shake bottles well before use
Paint thin layers 
Double the cure times when using a non-BSG lamp 
View 
#BSGMars
 on Instagram to see this shade as worn by our 
#BSGSquad
!
See more shades of 
#BSGRed
 and 
#BSGPink
GET FEATURED
Tag your 
#bioseaweedgel
 photos for your chance to be featured on our page:
1. Tag us @bioseaweedgel and #bioseaweedgel
2. Tag the colour name #BSGColourName
3. Tag the colour shade #BSGColourShade
You need this polish
I am obsessed with all of Bioseaweed Gel's products! Such high quality compared to any other brand. The Phases Gel Polishes are the coolest things I have ever gotten. I'm obsessed with them. About to buy the rest of the colors. I just got this color and put it on a week ago; it is still changing colors and has not even chipped. AMAZING IDEA AND PRODUCT
Great for nail art
I have always loved BSG's cosmos collection. I used Mars with Artiste to achieve a blushing look on the little bear nail art.
Awesome
I love Bioseaweed Gel Polish's
I have very sensitive skin on my hands and this is the only Gel Polish I've been able to use without a serious flare up.
Even my husband liked the Phase changing polish.
Love this colour change
This is really pretty, I love to use it as an accent on one finger per hand
Great Products
I absolutely love BSG products. They go on easily and last a long time. And I think they are healthy for my nails. My nails are feeling stronger and not splitting like they used to. I love the Phases 'Mars' colour. It goes from a beautiful shade of red to a lovely coral pink colour. It's fun and looks great either way.